21 04 21 21:19
Blog
As I'm writing this, on a warm Hawaiian evening, April 21st, 2021, I just thought that 2020 and part of 2021 are best to put them in the past, not to dwell on those hard Covid quarantines days. Hawaii was particularly hit hard. We depend on tourism so much that when the airport, hotels, and rental car companies, closed, we felt the isolation and showed us just how dependent we are on tourism. Before Covid, I used to average a visit a week from a turner, a family wanting to buy something, locals and visitors would come by the studio. I went 13 months without a single visitor. Last month I had my first class in over a year. It felt good to be back in action. Visitors are starting to come back. The silver lining of it all was if there is one that I did over 63 Interactive Remote Demonstrations! Some weeks I was doing 3 of them!
Blog 2021One of my favorite IRD's was one to 5 clubs that got together in England. Almost 150 attendees enjoyed learning about the history of the Hawaiian Calabash, how to turn one and how to apply pewa patches. I turned many pieces, rough turned and some to completion, but since the art gallery was closed, I did not do much sanding. I have over 200 bowls, calabashes, platters and more, ready to finish. Since many of us are getting vaccinated, we aim to restart the Maui Woodturners Association in-person meetings in July! And that is the best news I have heard in a long time! Don't forget to stop by and say hello when you come to Maui! I always have some time for a fellow woodturner. Last week I had the good fortune to spend the day with someone that now I can call my friend: Pat Simmons, founding member of the famous rock and roll band the Doobie Brothers. My good friend Wayne Omura helped removed an old Koa tree that was sadly past it's prime, infested by termites. We recover a lot of good wood!
Keep the shavings flying; stay safe. Aloha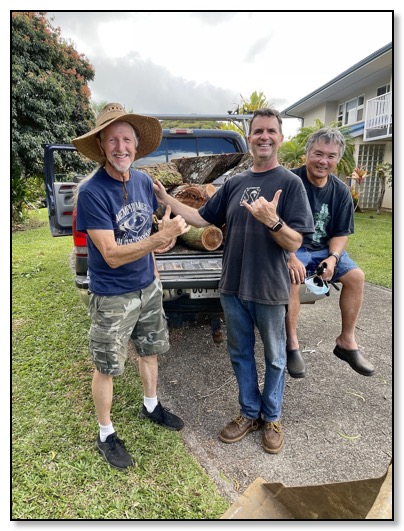 Pat Simmons, yours truly and Wayne Omura. Look at the load of Koa!


08 05 16 20:31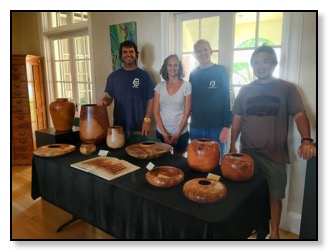 I had a great time with some great company at the Seabury Hall Craft Fair. May 7th, 2016


The Seabury Hall fair is the largest one in the state of Hawaii. Artists and crafters come from as far as Oahu to sell their art.
This year we decided to promote the Maui woodturners association, and go to the fair as a club. I was joined by Shaun Fleming, Vince Hogan and Wayne Omura. Shaun is the current first place winner at the Hawaii Forestry Wood show, where the most talented woodworkers in Hawaii display their art once a year. Vince is the Vice President of the club and one of Hawaii's most talented woodturners. He specializes in custom made Hawaiian Calabashes, his signature work are the really big umekes. And last, Master woodturner Wayne Omura, our club Treasurer, famous for his big translucent Island Norfolk Pine bowls. Wayne was the most succesfull seller of the our group at the fair!
His small items were selling like hot cakes! I learned a lot from him yesterday. I learned that I need a better, more profesisional display, I need some inexpensive but nice looking boxes and bags for my items, when they sell… I learned that along with big ticket items I need some small things for the casual looker than doesnt want to spend big money, but wants some nice Koa items…
Overall it was a great experience, had fun, met new customers, saw old friends and made some new ones…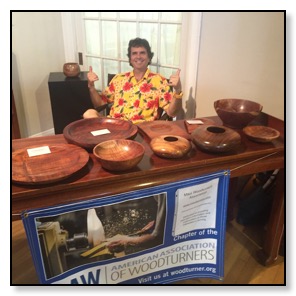 That's me! Yous truly, Emiliano Achaval at the fair….