02 04 18 22:17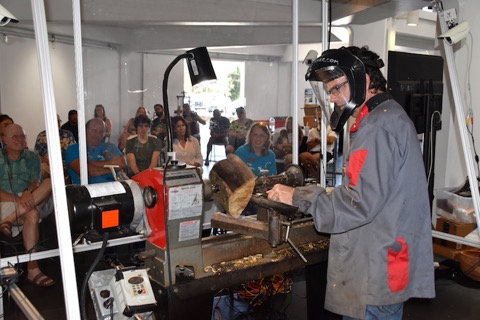 Wailoa Arts Center. 20th Annual woodturning exhibition. March 17th, 2018, Hilo, Hawaii



I had the opportunity and the privilege to represent Maui and travel back to back weekends thru Hawaii. I started with the 8th annual Honolulu Woodturning Symposium. I flew to the island of Oahu on March 10, 2018. I was picked up at the airport by club member David Chung. We went straight to the club's headquarters , a nice warehouse owned by woodturner Mike Chu. Lead demonstrator this year was Ashley Harwood. She started the first rotation. I followed up with my boxes with hand chased threads demo. The demo was well received, and I had a lot of fun. The day after, we had a hands-on class. Lots of turners had the opportunity to try their hand at chasing threads…
I want to say thank you to the Honolulu Woodturners for the invitation
The weekend after that, I flew to Hilo, on the island of Hawaii. I was invited to do a demo at the 20th annual Hilo woodturners Wailoa Arts Center exhibition. One of Hawaii's most famous and talented artist picked me up at the airport, John Mydock. From there we went straight to the arts center. Wailoa is the only State owned arts center in Hawaii. It is located on a Tsunami flooding area, and right next to it it's the memorial to the 60 lives lost when the last big Tsunami hit Hawaii, May 23rd 1960.
I did a Pheasant wood natural edge bowl, for a nice crowd of woodturners and non turners. I entered a pice, a Samoan coconut bowl, 23 inches wide. The piece got second in the popular vote!! After the exhibition, professional woodturner Aaron Hammer drove me around town, showing me some of the tourist attractions. I had the opportunity to spend a day with Aaron, we had lots of fun. I want to say thank you to Dennis Hakes, he's the club president, John Mydock and Aaron Hammer for the hospitality, they made me feel welcome and at home. I cant wait till next year!! Aloha from Maui.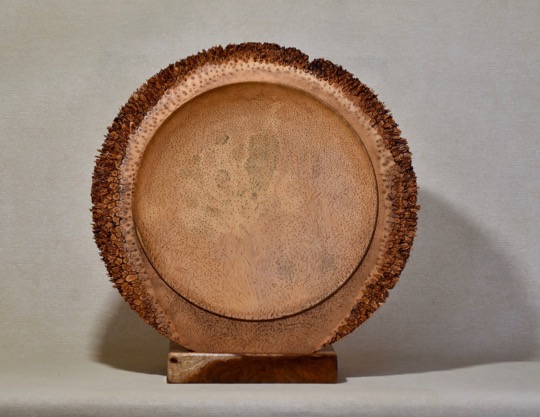 "Beach Dreams" 23 inch Samoan Coconut Platter. 2nd place, popular vote at the 2018 Wailoa Arts center 20th annual Woodturning exhibition!
16 07 17 22:21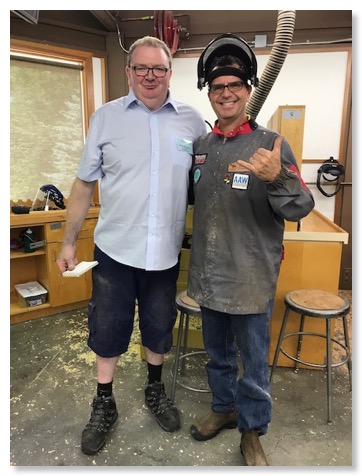 2017, what a great year! And its only July!
A few weeks ago, I was in the studio when a big delivery truck blew its air horn to announce its arrival. A few minutes later, a big forklift delivered our club's new Economic Grant Opportunity AAW Nova Lathe. The club, its members and officers have work very hard to get to where we are today. Seeing the lathe on the driveway has made all these past 17 months work worthwhile. We have a committee and we are working on a plan so things go smoothly. In August 25th, we have been invited to Maui's biggest mall, Queen Kaahumanu Center, in beautiful downtown Kahului. We are grateful for this opportunity were local Non Profits 501-C3 can introduce themselves to the community. of course we will be doing turning demonstrations. I will be turning spin tops for the kids, and giving them away. Sam Stephens will be showing how to turn and assemble pepper grinders. We have a sign up sheet, contact me for more info. Club members are encourage to donate 2 pieces to sell at the mall. A member that donates to the club will then be allow to sell his artwork, and give the club 25 percent back.
I'm writing this on July 8th, on my way to Gatlinburg, Tennessee. I will be taking a week long class with Master Irish woodturner Emmet Kane. The class is at one of the best and most famous Art Schools in the nation: Arrowmont. Its a special place for us who have taken woodturning as a lifelong profession. Its the birthplace of the American Association of Woodturners. Its truly an honor, I was chosen by the AAW as one of the recipients for Economic Grant Opportunity individual scholarship award, chosen between hundreds of entries. I'm thankful for this life changing opportunity. It has the potential to send my career to a whole new level.
In June we had the opportunity to learn from one of the masters of woodturning, Guilio Marcolongo. He stayed with me, had a great time and learned a lot.
I'm finishing writing this up on my way back home, Saturday July 15th. Arrowmont was one of the great experiences of my life. Everything exceeded my expectations. Emmet Kane was a great teacher. He is a great artist, an incredibly talented woodturner, and I now can add friend and mentor. The group taking the class was also great. We had a lot of fun. We had several beginners. By the end of the week they had all made their first turnings!
There is definitely going to be a before and after Arrowmont. I have a new vision, a new perspective on my work. I will be staying with my basic roots but also experimenting with new techniques, different textures, woods and designs. I will be forever grateful to the AAW for the scholarship. Cant wait to get back home and get into the studio!! Safe turning! Aloha