06 06 16 22:33 Filed in:
Woodturning
| Demo


Maui Upcountry Fair Spin Tops Demo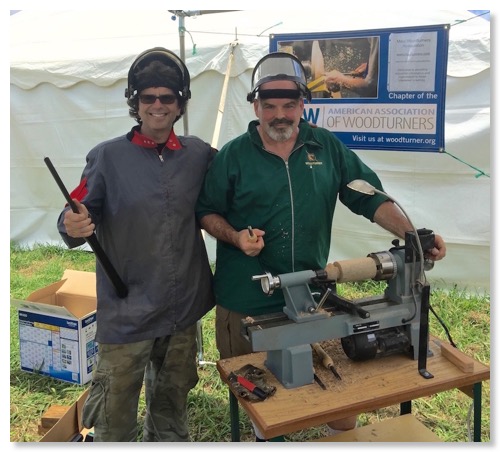 Emiliano Achaval & Ed Romson



On June 5th 2016, I was invited to do a Woodturning demo at Maui second biggest county fair. I took the opportunity to go and promote our woodturners club. I was joined by Ed Romson, Tomas Vila, and briefly by Karl Wenger. The midi lathe was a huge atraction!! Nobody can resist stopping by to see what's going on. Kids were lining up, waiting for the spin tops that we were turning for them. Lots of them could not believe they were free!!
I want to say thank you to Wayne Omura for loaning us his midi lathe. Wayne was going to come and turn with us, but a trip to Las Vegas, planned long ago, coincided with our day at the fair… The demo was a great success, so much, that we were invited to go back next year!! Hopefully more club members will join us next year, maybe add a second lathe so the kids dont have to wait as much.