13 04 16 21:34 Filed in:
Woodturning
I'm going to miss my old studio… But the new and spacious one is helping erase the guilty feelings… The old one served me well for nearly 20 years…
It seems like yesterday when I got my first lathe… With the help of some friends I was able to make the move in just a few days. My "new" location is the old 3 car detached garage at my house… I love it. Its great to be able to work, almost out of the house.
During the move I found things that I had forgotten, put away in a dusty drawer. Some I didnt even know what they were, but since they look like something usable, back in a clean drawer they went…
This time I was able to set up the shop right. I'm only a step away from my Baldor grinder with CBN wheels, so I can sharpen and be back turning in under 20 seconds. My tool rack is even closer… I now have a window, a double big window, so much light!! Today I was turning most of the day without light, just with the sunlight, shining perfectly on the headstock area…
The studio is big enough to be able to hold the meetings of The Maui Woodturners Association, as you know, I'm the President of this newly found American Association of Woodturners Chapter Club…
This monday , April 18th, we are hosting Andi Cole, President of the Honolulu Woodturners Association. Andi will be showing us how to core a bowl with the McNaughton coring System.
A new chapter has started. New and exciting times are ahead. Every piece of wood is a wonder ready to be discover… Till nex time, Aloha

.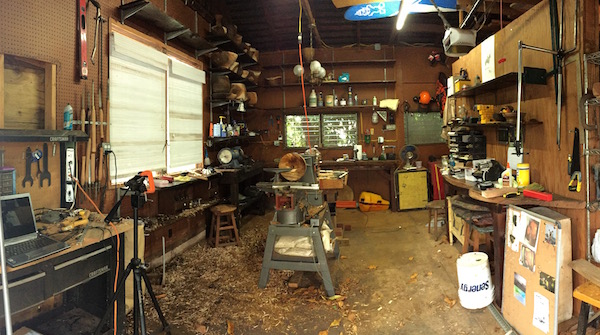 My new Studio
21 03 16 21:08 Filed in:
Woodturning
| Work
Since we founded our woodturners club, in february of 2016, I have had so far, 7 mainland visitors to my studio. The AAW has a list of all members and clubs on their resources page. It's always fun to meet new people, specially if they are fellow woodturners!!
Each visitor reminded me how lucky we are to live in Hawaii!! First, I dont have to have a heater in my shop. I can turn with shorts all year round. If it was safe, I could turn with my flip flops on too…
Second, we take for granted all the native hardwood species, specially the Koa and Koa'ia… We also have, Pheasant wood, True Kamani, Milo, Mango, Avocado, Lychee, and the list goes on…
Shipping charges to the mainland are very expensive, making very hard to share our beautful hawaiian woods. But a few of the visitors took back small pieces of Koa, showing the Aloha spirit to our AAW brothers…
A new chapter has started in my life, as President of the Maui Woodturners Association… A great group of people have joined, 23 members so far!!
We have montlhy meetings, we exchange ideas, learn new things, have a wood raffle, and the main thing, we have a lot of fun!!!
Each pice that comes off my lathe is a labour of love. I'm my worst critic, If I'm not completly satisfied, the piece will not be for sale, or given to the customer that order it. Till next time, Aloha, safe turning and make lots of chips.